Bill Sherman
Bill Sherman brings a wealth of knowledge and experience to each and every case. A former Assistant State Attorney General and Senior Assistant County Attorney, Bill prides himself on offering sound, realistic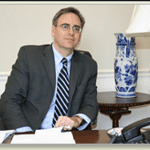 judgments and providing straight-forward answers to solve problems of all types. His results-oriented approach to practicing law puts clients first. Bill Sherman knows that building relationships is the key to success in legal matters. He takes the time to get to know his clients, taking their values and top priorities into consideration as he forms an individual strategy for each case.
Throughout his tenure as a DUI defense attorney in Metro Atlanta and North Georgia, Bill has built a strong rapport with prosecutors who laud him for his ability to balance his affable personality with an aggressive style of representation. Bill Sherman is, first and foremost, a family man. He and his wife, Attorney Valerie Sherman, founded the Sherman Law Group for the purpose of providing sound legal advice to those who might otherwise be unable to have access to highly skilled representation.
In over twenty years of practicing law, Bill has seen it all. He is a non-judgmental client advocate who believes in second chances.
He got into this business to help people get through their most difficult times and he continues to use his common sense approach to control costs and keep DUI representation affordable. He has seen the way DUI charges can affect a family, and with this in mind, he looks for an outcome with the least possible negative impact on the lives of his clients and their families. A skilled negotiator, Bill Sherman uses his education and experience in the courtroom to get the best possible results.
Outside of work, Bill Sherman shares many similar interests with his clients. Bill's interests include sports, hobbies, charitable work, outdoor activities and participating in cultural events. As a volunteer coach on numerous youth teams, Bill enjoys getting the chance to spend time teaching children about the importance of sportsmanship, competitiveness, and hard work -- habits that he knows they will benefit from both on and off the field of play.