Attorney Valerie Wulff Sherman
Put 20+ Years of Experience on Your Side
Valerie Sherman and her husband Bill founded the Sherman Law Group for the purpose of providing sound legal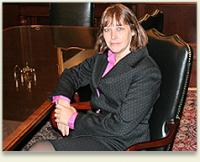 advice to those who might otherwise be unable to have access to highly skilled representation. Valerie believes in second chances and she takes great pride in giving straightforward, non-judgmental advice to clients going through trying times.
A mother of two, Valerie understands the impact a criminal charge can have on a family. She has been lauded for her ability to balance her family life with her dedication to her practice. She acutely understands the severe pressures that so many families face and how these pressures dramatically increase when a family member is arrested and facing a criminal charge.
A renowned client advocate, Valerie dedicates herself to bargaining for an outcome with the least negative impact on the lives of her clients. Her thorough approach and intense preparation allows Valerie to present concise, precedent-based arguments, which lead to desirable results.
Experience
Attorney Valerie Sherman brings a great deal of valuable courtroom experience to The Sherman Law Group. A former Magistrate Judge and Assistant County Attorney with over twenty years practicing law, Valerie puts her knowledge and experience to work for her clients in the courtroom and in negotiations with prosecutors.
When she is not in the office or the courtroom, you might find Valerie in the stands at a sporting event, attending cultural activities, volunteering, or reading a good book.
---
Contact Us 24/7 to Get Started on Your Case With a Free Consultation.
---